Within the Cradle of Texas counties, our Chapter #33 members reach out into their communities to provide programs and services to foster patriotism, commemorate American Revolutionary history and inform and educate its citizens about our nation's founding principals and history. We do this to help fulfill our Sons of the American Revolution (SAR) mission to reaffirm and instill in others faith in the principles of liberty and our constitutional republic while honoring our patriotic ancestors who gave us our freedom and constitutional form of government. We typically connect with our communities in three areas: community services and projects; community recognition awards; and educational outreach.
Community Services and Projects
Color Guard
Our chapter's Color Guard wear Revolutionary War uniforms and participate in civic and patriotic events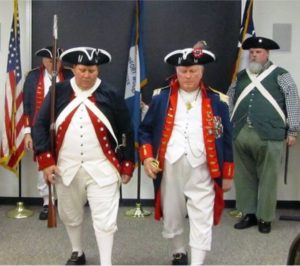 and observances. When booked in advance, and time permitting, the Cradle of Texas Chapter Color Guard can appear at your school, church, concert, parade or other patriotic event. If you are interested in having them at your event, please contact Russell Dart. In the photo at right, a mixed chapter color guard performs at the Comfort Wood Chapter meeting of the DAR in 2016.
Restoring Cemeteries and Marking Graves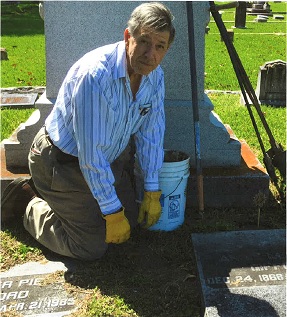 This community service helps to honor our ancestors, patriots or not, by preserving their history and memory for their descendants and genealogy in general. Compatriot Bill Sanders is shown in the photo at right placing a marker for Patriot Comfort Wood at the grave of his descendant, Annie Soule Gifford, who was a founding member of the Daughters of the American Revolution (DAR) chapter that bears his name.
Marking Historical Sites
Celebrating Local, State and National Historic Patriotic Events
Community Recognition Awards
Our chapter singles out individuals within our communities who deserve special recognition for their actions and achievements. The following lists the awards and medals that we currently provide:
Emergency Medical Technician (EMT) Award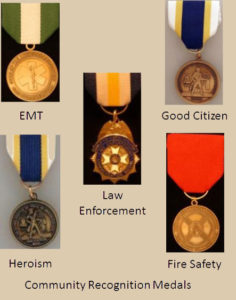 Law Enforcement Personnel Award
Heroes – Life Saving Award
Good Citizenship Award
Distinguished Service Award
Fire Personnel Award
School Flag Raising and Lowering Award
Veterans Award
War Service Award
Educational Outreach
Presenting Flag History to School Children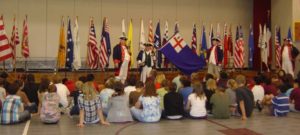 The Revolutionary War Flag program highlights the history of flags which were used in the Revolutionary War. Our chapter is among several others in the Houston, Austin and Dallas areas that have offered this program. The photo at right shows members of our chapter in their patriotic uniforms presenting the flag program to students at the Wild Peach Elementary School near Brazoria, TX in 2010.
Providing American History Curricula DVDs to Schools
SAR members distribute these curricular DVDs to high school history teachers within our communities to aid them in rounding out their lesson plans on early American History of the Revolutionary War period.
Links to Educational Materials and Resources on American History
Click on SAR Educational Resources and Downloads to access educational videos, DVDs, CDs, lesson plans and printed material directly from the National Society of the Sons of the American Revolution. We invite individuals, school and community groups to visit our SAR Headquarters located along Museum Row near downtown Louisville, KY. There you can access our historical archives and genealogy research library.